ETTORE GERMANO RIESLING HERZU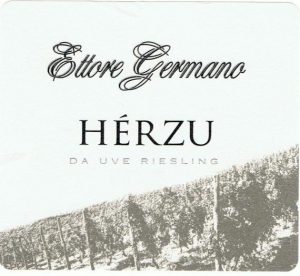 Ettore Germano is a well known winery in the Barolo region, but they have made a name for themselves with their whites and sparkling as well! This Riesling is grown in the "Alta Langa" on the border of Langhe, different than the Barolo area thanks to its rocky soil and altitude. Barolo Wine Club chose this wine as a special wine for their Whites & Sparkling Case in the selection in the Spring shipment 2020.
WHY WE CHOSE THIS WINE
A Riesling in the Langhe? Yes! Herzu' means steep in the Piemontese dialect, like the location of where the Riesling vineyards are planted. Ettore Germano was one of the first to plant Riesling grapes back in 1995 (considered one of the pioneers!). Now there are over 20 producers making dry crisp examples often planted on cooler Northern exposures in the Barolo & Barbareco areas. However, Sergio thought outside the box and saw potential in the high altitude and soils comprised of lime and Langhe stones in a little town way up in Alta Langa. This was town was generally diregarded for its Dolcetto vineyards or hazelnuts. It is an interesting experience to taste a Riesling with a Langhe touch. Sergio is also one of the fighters for Stelvin caps, combatting against the "traditionalists" and prejudices. So open your minds and give it a try!
TASTING NOTES
Straw yellow with green tints. On the nose, tropical fruits with notes of savory herbs and minerality. On the palate, full-bodied with nice balance between important structure, fruit, minerality with a bit of residual sugar, giving it a very long finish.
PAIR WITH
Baked or fresh oysters , baked salmon with anice.