GABRIELE MORRA, A BIT OF WINERY HISTORY
Gabriele (Stefano's partner of the winery), took over his family's historical winery dating back to the early 1900s when he met Stefano in a restaurant and decided that together they could turn around Gabriele's father's winery in 2013. The 2 young men in their 30s jumped into this adventure, focusing on quality rather than quantity! After winning first prize in one of the wine fair's in Brussels, they found the confidence to make this hobby/dream into a reality!
To make ends meet, Stefano has worked in the restaurant business for many years, learning the trade and having the chance to present his wines on wine lists next to big names like Bruno Giacosa and Bruno Rocca. He worked at Campamac (partly owned by the Gaja family & michelin star restaurant owner/chef Maurilio from Ciau del Tornavento) in the Barbaresco area. With great feedback and fantastic quality, customers were asking where they could buy this wine… this caught my attention! Now he works for another former michelin star chef in a casual deli in Alba where he can showcase his wines personally to everyone that eats there. He is very connected with great winemakers in the Barbaresco area, and I am so happy that you and I can support this up and coming winery!
STEFANO, CURRENT PARTNER & WINEMAKER
GABRIELE MORRA – BARBARESCO 2016
Grapes coming from 2 grand crus in Barbaresco, Ovello & Montestefano which are fermented in stainless steel and aged in a 3000 Lt barrel for about 22 months. The fermentation is spontaneous with no filtering, giving it great character typical of the grape and terroir. This Barbaresco has a deep red color with reflections of orange. Spicy nose with tobacco, dark fruits like black cherry and a bit of floral, violets and dried roses. On the palate medium bodied, exhibiting freshness with balanced and integrated tannins with nice persistence. I think this Barbaresco is really easy to drink now or within the next 5 years and as Stefano suggests, could be paired nicely with a medium rare steak! (you can see his love for food in this video as well!)
HOW I FOUND GABRIELE MORRA WINERY
I started following @morra.ga on instagram (you should too!) and could read this unknown producer's enthusiasm from his posts. Always on the search of lesser known wineries with small production, I quickly contacted him, and loved his reply of "yea, let's go out and drink some wine in the vineyard – because I have no tasting room or real winery!" I love that, but wanted to taste the wines.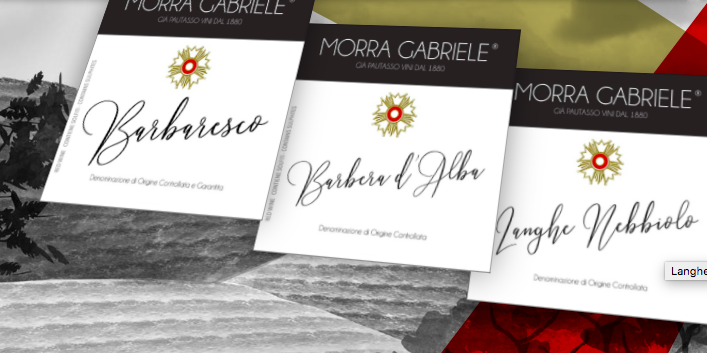 For more info visit Gabriele Morra Website