BAROLO CASAVECCHIA – Diano d'Alba
Casavecchia is a small family run winery (like all of our selections!) that occupies the original building dating back to the late 1700s! This is where the wines age, in concrete and big barrels. Today the winery is run by 2 brothers Marco and Luca while always making sure to listen their father Sergio's wisdom!
One brother is a trained oenologist focusing more on the winemaking and the other brother is an agronomist (focused on the farming side). So I would say this is a perfect match! The technical and sales side is managed by Carlo and his wife Carletta as well as their daughter Elisa who you will see in the video!
VINEYARD: The small vineyard is located in the heart of the Barolo region, in Castiglione Falletto. This is home to many of the legendary producers of Barolo like Cavallotto, Scavino and Vietti.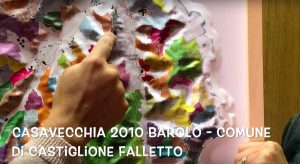 SOIL: The soil is calcareous with a bit of sand and the small clusters produce high quality juice!
VINIFICATION: Fermentation and maceration is done in concrete and ageing is done only in traditional Slavonian oak barrels for 3 years.
IN THE GLASS: The nose is complex with evident aromas of dried red fruits and dried roses. Medium bodied which will broaden with oxygenation in a decanter, nice full and smooth tannins with medium persistence.
OPENING TIME: We highly recommend opening in the morning for drinking in the evening or decanting for many hours. This wine will keep getting better and better even days after being open. Upon opening immediately it may feel light and a bit shut down, but with air will gain weight, spice and complexity. An amazing evolution to taste!
BAROLO CASAVECCHIA 2010 –  From vineyards in Castiglione Falletto
36 MONTHS AGED IN OAK
Claudio and I could not wait to swipe up a Barolo 2010 when we found one and although it is still considered young to drink this vintage, we believe this particular bottle is ready. It is from the sandier soils with a slightly lower altitude and we believe this is good to go. Even Wine Enthusiast journalist Kerin O'keefe just published this article about not having to hold the Barolos too long, even some 2010s.