LE PIANE BIANKO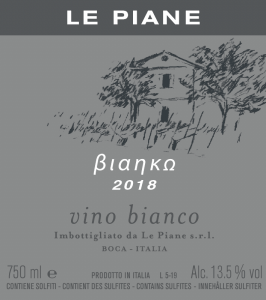 We love finding rare wines and sharing them with our friends, family and club members. The winery Le Piane, near Lake Orta and Maggiore, is well known for their Nebbiolo called Boca, but have incredibly interesting every day wines from ancient local vines as well. One of these is called Vino Bianko made from the Erbaluce grape. It is a native white varietal typically collocated with the town of Caluso. Le Piane winery is slightly outside this designated area and therefore can only be called, Vino Bianco. Here are a few things that make this wine truly unique:
– It is coming from volcanic soils
– 100 year old vines
– The wine is made with no technology leading the winemakers to learn from the past. For this reason, the grapes are pressed softly in a basket press, with whole cluster fermentation in large oak and concrete. – This wine is made with extremely low sulfite content. Watch the video to learn more!!!
WHY WE CHOSE THIS WINE
We were only familiar with Le Piane's famous Nebbiolo based wine – Boca from Northern Piemonte near Lago Maggiore. When the rep came with the whole range of wines, we weren't expecting to be so impressed by the white! Erbaluce is one of the lesser known grapes in Piemonte which was first cited in a wine document in 1605. The local dialect calls the wine "Greco Bianco" which is why the letters are in Greek. Infact, it is thought to be related to Greco di Tufo, a well known white from Southern Italy. We loved the complexity and uniqueness of this wine and decided to add it to our shipment! We hope you enjoy it.
TASTING NOTES
A wine of great structure, with an open nose of dried Alpine flowers, pears, honey. On the palate it is delicate and savory with a nutty finish.
PAIR WITH
Battered and fried trout or white truffle dishes.